Insights Discovery is een kleuren lerensysteem. Het programma geeft een beter begrip van zichzelf en anderen. Inzicht in je persoonlijke effectiviteit en inzicht in het gedrag van je collega's maakt het eenvoudiger om samen te werken en gezamenlijk resultaten te bereiken.
Het proces
Voordat het programma begint, voltooien alle deelnemers een online Insights vragenlijst die het Insights Discovery-persoonlijkheidsprofiel genereert. Het profiel duurt slechts 20 minuten om te voltooien. Het profiel wordt vervolgens gegenereerd en wordt uitgedeeld aan de deelnemers tijdens hun sessie.
De workshops hebben de volgende doelstellingen
Alle deelnemers beginnen individueel hun eigen sterke punten en ontwikkelingskansen te kennen;
Het ontwikkelen van effectievere communicatie binnen het team, waarbij we rekening houden met de individuele persoonlijkheid en vaardigheden van elk teamlid.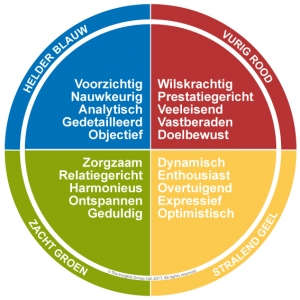 Methode
Als een team beginnen met:
Begrijpen hoe de teamdynamiek werkt en wat de bijdrage van elk individu is;
Een praktisch en kleurrijk kader biedt inzicht in de cultuur;
Leer bewust afstemmen en waarde toevoegen aan het team waar hij of zij deel van uitmaakt.
Het team heeft toegang tot de volgende tools van Insights om de bovenstaande doelstellingen te bereiken:
Het individuele Insights Discovery persoonlijke profiel: inzicht in hun eigen werkstijl en hun impact op anderen;
Teamwiel: inzicht krijgen in de sterke punten en gebieden voor teamontwikkeling (analyse op basis van alle individuele profielen);
Interactieve oefeningen;
Huiswerkopdrachten
Resultaten
De volgende resultaten zijn te verwachten:
De deelnemers zijn zich bewust van de verschillen tussen mensen en krijgen meer begrip, ze hebben het inzicht dat verschillende werkstijlen elkaar kunnen aanvullen in plaats van tegen elkaar;
De communicatiekracht van de deelnemers is verhoogd;
De deelnemers zijn in staat om effectief contact te maken, om samen te spreken en om elkaar te begeleiden, wat leidt tot betere prestaties en verantwoordelijkheid nemen.
© The Insights Group Limited, 2016. All rights reserved.